Presentations for the Hackathon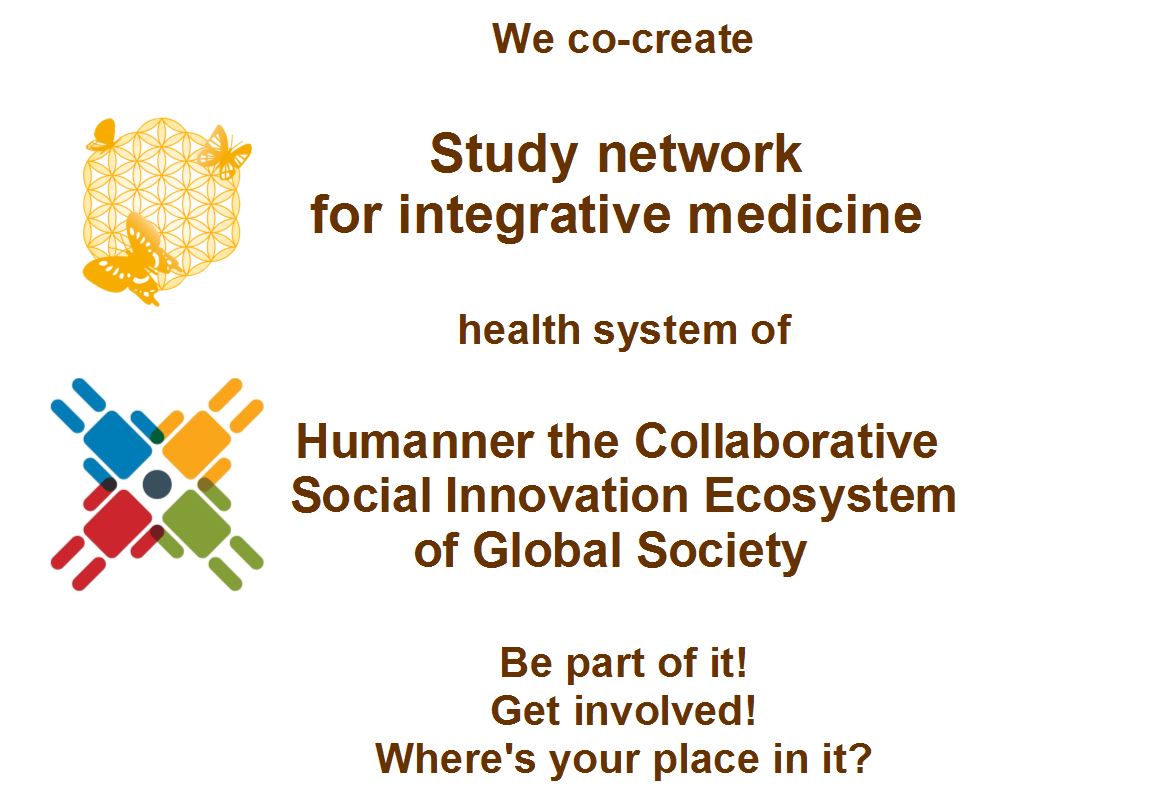 My project proposal for our cooperation in the Hackathon
Version 1
(1) Humanner need software developer, architects, designer an webprogrammer to resolve a basic problem in our world.
(2) Many NGOs (sample WHO) have money problems.
The WHO has come under criticism because it is not independent.
Instead of many paths to health, it supports only one path:
The fight against the virus and against diseases, because it brings a lot of profit to the lobbying organizations.
(3) Many companies have money problems. The companies that did not have a good financial cushion are facing the danger of having to file for bankruptcy as a result of the Corona crisis.
(4) Many people have the problem that they work until they drop to get the money they need to secure their pension. Old age poverty is a big problem in our world.
(5) Through cooperation with the study network for integrative medicine, Humanner was able to find a solution.
We need your support for this.
(6) Many people have learned in the Corona crisis how important it is to support their own body so that it can remain healthy.
(7) Many people want to support each other so that they can stay and become healthy together.
(8) Many people want to earn a lot of money to support social projects and organisations and leave their children and grandchildren a world worth living in.
(9) Can you imagine what big social power this creates?
Would you like to support this as a programmer?
Are you yourself one of those people who want to make this true?
(10) Where does the money come from?
As human beings we have all the needs that we want to fulfil.
Health is such a basic need.
How about the company you buy products from gives a small part of its profit to the people who help you use the product.
There are many people in study network who help us to stay healthy and fit with this products.
(11) How can you make your own money from that?
If you recommend it to your friends and support them, you will receive the commission from their purchases.
The larger the network thus built up, the greater the commission the company pays.
You can then support the social project that is close to your heart and thus create a future just the way you want it.
(12) Study network has knowledge and protoypes of plattforms in WordPress to created the architecture, that it works.
They now need app developers and web designers to make this support easy now.
It should be so that everyone can provide the support, even if they themselves have no idea about it.
Getting and staying healthy should become very simple and everyday.
(13) Humanner assumes the role of project manager and project coordinator from brainstorming to implementation.
If you want to be part of it, register here at the Humanner Slack-Workspace and introduce yourself.
Problems in Version 1
It's thought too small: it makes more sense for a hackathon not to limit itself to just one target group, but to open the room so that many can feel addressed.
It is too soft and in narrative mode. There is a lack of power and implementation energy.
In deutsch:
Es ist zu klein gedacht: Es ist für einen Hackathon sinnvoller sich nicht nur auf eine Zielgruppe zu beschränken, sondern den Raum zu öffnen, so dass sich viele angesprochen fühlen können.
Es ist zu weichgespühlt und im Erzählmodus. Es fehlt dort die Power und die Umsetzungsenergie.
Version 2 in deutsch
Die Erfahrungen mit der WHO zeigen uns, dass es so nicht weitergehen kann!
Um soziale Organisationen und Unternehmen zu gründen, brauchen Unternehmer und Visionäre soziales Kapital.
Unsere Gesundheit darf nicht den Profitinteressen weniger geopfert werden!
Wie sonst lässt es sich erklären, dass eine Weltgesundheitsorganisation nur genau einen Weg kennt, um unsere Gesundheit und die Gesundheit unserer Kinder zu schützen?
Einen Weg, mit dem wir unserem Körper mitteilen:
"Es gibt schreckliche Krankheiten und weil du selbst unfähig bist, damit klar zu kommen, belasten wir dich präventiv mit Chemikalien."
Ist es dann ein Wunder, dass unsere Körper immer kränker werden und unsere Umwelt und unser Trinkwasser immer mehr mit Arzneimittelbeständen belastet werden?
Wir brauchen eine WHO, die Wege aufzeigt, mit dem wir unserem Körper mitteilen:
"Du bist großartig! Wir vertrauen dir, dass du es schaffst, uns in dieser Welt gesund zu erhalten.
Da in der Vergangenheit ganz viel schief gelaufen ist, unterstützen wir dich jetzt dabei, dass du es wieder reparieren kannst und regenerieren kannst."
Wir brauchen eine WHO, die die vielen erfolgreichen Medizinerfahrungen der ganzen Welt zusammen bringt und uns die Vielfalt in einer integrativen Medizin zusammen fassen lässt.
Kannst du dir vorstellen, wie das unsere Welt zum Besseren verändern wird?
Die Welt zu retten, liegt nicht in meinem Machtbereich.
Die WHO zu anderen Entscheidungen zu bringen, liegt nicht in meinem Machtbereich.
Das müssen andere tun.
Das was in meinem Machtbereich liegt, habe ich in den letzten Jahren getan:
Ich habe mir das Studiennetzwerk für integrative Medizin ausgedacht.
Ich habe geforscht:
wie ich den Schaden, der in der Vergangenheit in meinem Körper angerichtet wurde, wieder beheben kann.
was ich tun kann, um meinen Körper so zu unterstützen, dass er es schafft, in der krankmachenden Umgebung, die wir aktuell geschaffen haben, gesund zu bleiben.
wie es möglich ist, dass der Körper nicht aus jeder Herausforderung ein Problem macht, sondern meinen Geist für kreative Lösungen öffnet.
Ich habe viele Wege gefunden, wie es möglich ist, aus der Krankheitenverwaltung, die die WHO aktuell betreibt, zu einer integrativen Medizin zu kommen, die die Selbstheilungskräfte des Körpers stärkt und damit seine Gesundheit erhält.
Da diese vielen Möglichkeiten mich als Mensch überfordern, habe ich jetzt genau einen Weg gewählt, der mich dabei unterstützt, das grundlegende Problem zu ändern.
Ich kann Unternehmer und Visionäre dabei unterstützen, soziales Kapital zu bekommen,
um soziale Organisationen und Unternehmen zu gründen.
Für diesen Weg möchte ich in diesem Hackathon Unterstützer finden.
Ich habe mir aus dem riesigen Markt 3 Unternehmen ausgewählt, die mir die Möglichkeit eröffnen, soziales Kapital zu generieren, indem ich in meine Gesundheit investiere und andere Menschen dabei unterstütze, das gleiche für sich zu tun.
Ich unterstütze meinen Körper:
mit den Transferfaktor-Produkten von 4Life, damit er immer stabiler wird und mir ein immer größeres Bewusstsein ermöglicht
mit den CBD-Produkten von Kannaway, damit ich flexibler werde und mein endocannabinoides System genährt wird 
mit den ätherische Öle-Produkten von Young Living, damit die Freude immer mehr meine Seele nährt und meine energetische Frequenz erhöht
Da Produkte allein nicht gesund machen, sondern es dort einen Bewusstwerdungsprozess für die Ursachen braucht, bin ich eine Partnerschaft mit META-Health International eingegangen.
META-Health International:
entwickelt ganzheitliche Gesundheit
gibt uns Lifehacks
bildet Coaches aus
Da ich die Unterstützung der Open Source Community möchte, um das Projekt an den Start zu bringen, bin ich eine Partnerschaft mit  'Humanner the Collaborative Social Innovation Ecosystem of Global Society' eingegangen.
Das Studiennetzwerk verfügt über das Wissen und hat Protoypen von Plattformen in WordPress erstellt, um die Architektur zu testen.
Wir brauchen App-Entwickler und Webdesigner, um die Unterstützung jetzt einfach zu machen.
Es sollte so sein, dass jeder die Unterstützung leisten kann, auch wenn er selbst keine Ahnung davon hat.
Gesund zu werden und gesund zu bleiben soll dadurch sehr einfach und alltäglich werden.
Gefällt dir das Projekt?
Wie möchtest du uns dabei unterstützen?
Brauchst du dafür noch mehr Informationen von uns?
The experience with the WHO shows us that it cannot go on like this!
In order to establish social organisations and companies, entrepreneurs and visionaries need social capital.
Our health must not be sacrificed to the profit interests of a few!
How else can it be explained that a World Health Organization only knows exactly one way to protect our health and the health of our children?
One way in which we communicate to our bodies
"There are terrible diseases and because you are unable to cope with them yourself, we are exposing you to chemicals as a preventative measure."
Is it any wonder, then, that our bodies are getting sicker and sicker and that our environment and our drinking water are increasingly polluted with stocks of medicines?
We need a WHO that shows us ways to communicate to our bodies:
"You are great! We trust you to be able to keep us healthy in this world.
Since a lot of things have gone wrong in the past, we are now supporting you so that you can repair and regenerate."
We need a WHO that brings together the many successful medical experiences of the whole world and lets us summarize the diversity in an integrative medicine.
Can you imagine how this will change our world for the better?
Saving the world is not within my power.
Making the WHO make different decisions is not within my power.
Others have to do it.
What's in my power is what I've been doing for the past few years:
I came up with the Integrative Medicine Study Network.
I have done research:
how to repair the damage done to my body in the past.
what I can do to support my body in such a way that it manages to stay healthy in the disease-causing environment that we have currently created.
how it is possible that the body does not turn every challenge into a problem, but opens my mind for creative solutions
I have found many ways how it is possible to move from the disease management that the WHO currently operates to an integrative medicine that strengthens the body's self-healing powers and thus maintains its health.
Since these many possibilities overtax me as a human being, I have now chosen exactly one way that will help me to change the fundamental problem.
I can help entrepreneurs and visionaries to get social capital,
to create social organisations and companies.
For this way I would like to find supporters in this Hackathon.
I have chosen 3 companies out of the huge market that give me the opportunity to generate social capital by investing in my health and helping other people to do the same for themselves.
I support my body:
with the Transfer Factor products of 4Life, so that it becomes more and more stable and allows me to become more and more aware
with Kannaway's CBD products to make me more flexible and nourish my endocannabinoid system
With Young Living essential oil products, so that joy nourishes my soul and increases my energetic frequency
Since products alone do not make people healthy, but rather require a process of becoming aware of the causes, I have entered into a partnership with META-Health International.
META-Health International:
develops holistic health
gives us life hacks
trains coaches
Since I want the support of the open source community to get the project off the ground, I have partnered with Humanner the Collaborative Social Innovation Ecosystem of Global Society.
The study network has the knowledge and has created prototypes of platforms in WordPress to test the architecture.
We need app developers and web designers to make support easy now.
It should be so that everyone can provide the support, even if they don't know anything about it themselves.
Getting healthy and staying healthy should become very easy and everyday.
Do you like the project?
How would you like to support us?
Do you need more information from us?
Cooperation with other companies
Develop ideas with us at the Hackathon
What is your opinion?
This page is on the website with the prototype for it.